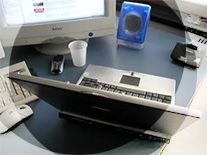 Solutions > eStatement Office
eStatementOffice provides a proven, scalable, standards-based platform with a low total cost of ownership to maximize customer relationships by providing online account information, self-service capabilities and targeted marketing. Strengthen your customer relationships, reduce costs and increase your revenue, while providing your agents with the convenience, control, and service they demand.
eStatementOffice provides the flexibility and scalability to enable you to implement the solution in the manner that conforms to your current business processes and maps them into an electronic statement office. It provides a cost-effective growth path to grow with you as your needs evolve on a platform capable of handling a complete Electronic Bill Presentment and Payment (EBPP) solution.
You may wish to start small with a simple solution to provide email notification of commission statements on line to your enrolled agents. Your initial implementation, at a minimum, could be as simple as the enrollment of agents and publishing of commission statements, or as complex as a full featured statement office publishing business process with full administration capabilities including payments management.
As your business partners, our goal is to work with you to scope your immediate and future requirements, determine an appropriate roll out strategy and stage the delivery in a time frame suitable to meet your needs and those of your business partners by providing:
· Document analysis.
· Project specifications.
· Project management.
· Product implementation. This includes our fast track development framework
for business objects and business components for EBPP solutions.
· System integration and testing.
eStatementOffice enables you to improve the way you manage the issues unique to your business and gain a substantial competitive edge by presenting your customers' documents online in a secure, private and reliable environment. Organizations use eStatementOffice to access customer account data and develop ways of presenting the data for viewing, analysis and modification online. It will improve your customer relationships, enabling relationship management by means of replicating your current statement publishing processes electronically.
Electronic presentment is your competitive weapon to reduce costs and differentiate your business:
· Real time, up to the minute account information can be available at any time.
· Provide value add services such as updated product or competitive information.
· Provide historical data. View, analyze, and get details for current and past statements. Your representatives will appreciate this at tax time.
· Provide personalized statement and service delivery.
· Build loyalty and strengthen relationships.
· Flexible email notification support provides timely notification of any activity in the process.
· Simplify the dispute resolution and approval process by providing timely resolution to queries and disputes. Your customer service representatives have access to the same information and see exactly what your agents are seeing.
· Substantially lower production costs by eliminating printing and postage and costs in maintaining the business process.
· Improve your ability to gather vital customer data.
eStatementOffice is robust, completely customizable to meet your exact requirements and support the business processes needed to get you up and running quickly. It is extensible to grow initial business process functions to support future needs incrementally. It enables you to seamlessly integrate with legacy systems and was designed for organizations with large numbers of customers and high data volumes with its ability to handle complex online statements and scale to support large volumes of hierarchical data.
eStatementOffice provides a complete platform for managing customer relationships through the electronic channel:
Enterprise-class scalable, high performance architecture supports millions of complex accounts and thousands of concurrent users.
· Multiple delivery channels can be made available - Web, email, interactive voice response
applications, personal digital assistants, interactive web phones - all methods share the
same business logic, for a consistent customer experience across all delivery channels.

· Requires no changes to legacy systems.

· Changes to business logic can be made quickly without coding, using the flexible,
integrated business rules engine.

· Open standards platform makes it easy to map integration to existing legacy systems.

· Integrates with existing e-commerce applications to create a seamless customer
experience.

· Modular applications can be added as needed.

· Accelerates time to market and minimizes total cost of ownership.

· Single sign on for multiple applications.
eStatementOffice - features/benefits based on EBPP system
eStatementOffice Loading/Parsing

· Flexible loading of commission statements as external batch or as real time data feeds.
· Commission statements may be delivered as data or image files.
· Full error recovery procedures handle failed transfers.
· Data storage support for later data warehousing, statistics and reports.
· Data archiving with defined time for data purging.
Optional:
· Fully configurable workflow processes enable feeds from different data sources and separate customers.
· Data manipulation capabilities with support for full data parsing and complex data mapping via conditional logic and mathematical calculation functionality.
eStatementOffice Enrollment
· Dynamic Agent/Member enrollment from Commission Statement Data feed.
Optional:
· User administration console provides the ability to set up user accounts and passwords, publish and manage messages.
· Full enrollment from external batch/real time data feeds or application forms.
eStatementOffice Message Service
Optional:
· Flexible user notification.
· Broadcast to specific user groups.
· Text and graphical advertising support.
· email, statement message, marketing message or banner with graphics support.
eStatementOffice Payment Gateway Service
Optional:
· Gateway to electronic payment system for debit/credit transaction processing.
eStatementOffice OFX Service
Optional:
· Support for Open Financial Exchange protocol to download/upload commission statements to PFM (Personal Financial Manager) software i.e. Quicken, MS Money.
eStatementOffice Web Administration Service
Optional:
· Web Administration Console for Commission Statement publishing and administration for CRM. This will enable customer service representatives to view the same information as agents as well as respond to on line inquiries.
eStatementOffice Web/PDA/e-mail Publishing/Notification Service
· eStatement Web publishing.
Optional:
· Commission statement access can be provided via the multiple delivery channels - Internet, PDAs, IVR, interactive wireless phones.
· eStatement email publishing.
· eStatement web notification service.
· eStatement email, PDA notification.
· Provide access to previous statements.
· Customer profiles can be used by the business rules engine to personalize the statement and service experience such as by altering information and notification channels.
eStatementOffice Correspondence Office
Optional:
· User correspondence (forms) for inquiries.
eStatementOffice Reporting
Optional:
· Customer defined reports.
· Ad hoc reporting capability.
· "Slice and dice" information with drill down support for line item detailed information.
eStatementOffice adheres to non-proprietary, open standards to increase flexibility and options: C++/Java (CORBA, J2EE), presentation standards (DHTML, HTTP, and SMTP, security (Secure Sockets Layer (SSL) and 3DES), commission distribution (Open Financial Exchange - OFX), interactive financial exchange (IFX) and Extensible Markup Language (XML), J2EE Tag language.
Data can be retrieved from data streams both on and off line. Publishing standards support includes DHTML, Adobe PDF, OFX, ASCII and XML. Document-centric (statement image), or data-centric (statement data stored) models are supported. UNIX/NT operating platforms are supported.
The open architecture design ensures the ability to leverage all of the sophisticated application management tools, enterprise-class performance, scalability, portability, and easy extensibility this environment provides. It speeds implementation, eases integration with existing corporate standards and provides the widest possible distribution of documents.
Also in PDF format → download